H
i friends!
I am excited to be participating today in the Parade of Homes sponsored by blog
Poppies at Play
! Our new old house is the final stop on the virtual home tour!
To my new visitors, welcome to Rare & Beautiful Treasures! I am glad you are here. My name is Erin and this is our new addition, Wynn, who is 6 weeks old. He is our living dream. You can read more about that
here
.
My husband and I built our home in 2008. I call it "the new old house" because it is new construction with a lot of the details you would typically see in older homes: hardwood floors, lots of moldings, window seats, built-ins, pedestal sinks, etc. Building our dream house was a labor of love. God is continually teaching me lessons and revealing life to me in a new way which inspires me to share those experiences here on this blog. God has used our home to teach me many things. Today I share our home with the following caveat:
Do not store up for yourselves treasures on earth,
where moth and rust destroy,
and where thieves break in and steal.
But store up for yourselves treasures in heaven,
where moth and rust do not destroy,
and where thieves do not break in and steal
.
Matthew 6:19-20
Now that we have been properly introduced, pleased to have you, and welcome to our home!
Entry and Front Staircase
I have always wanted a staircase like this and it was at the top of my wish list when we built the house.
Hardwood floors throughout our house are
Bellawood's
Brazilian Walnut from Lumber Liquidators.
I get a lot of questions regarding this entry table and it is an antique that I cleaned up and painted.
Dining Room
My inspiration for the dining room (if not the whole house) was the house from the movie Something's Gotta Give. The built-in china cabinet was inspired by the movie in particular. The dining room table, a distressed farmhouse style, came from Pier One Imports. Lantern is Pottery Barn that I scored new off Ebay.
Kitchen
My favorite room in the house. This first view is from the living room, which connects to the kitchen through an archway I flanked with white curtains.
The moldings in this room were also at the top of my wishlist when we built. I absolutely love this room.

So much work went into this precious room. I made the crib bedding by hand and painted all of those tiny pinstripes! And now, of course, the baby sleeps in our room! 🙂
Crib Bedding by yours truly 🙂
If you are new to my blog, I am in the process of starting my own custom crib bedding line called
Wynnbaby
. I hope to have my website up with inventory available this summer. I am so excited about the crib sets I have completed-they are beautiful! hand made and 100% unique-no two will ever be the same so your child's room will truly be one of a kind. No more mass-produced bedding from overseas! Please bookmark Rare & Beautiful Treasures and check back for
Wynnbaby
updates!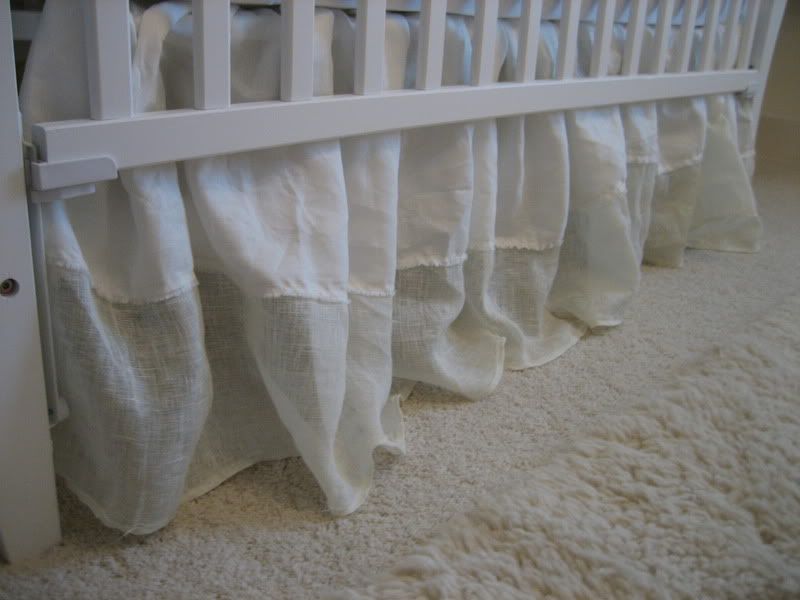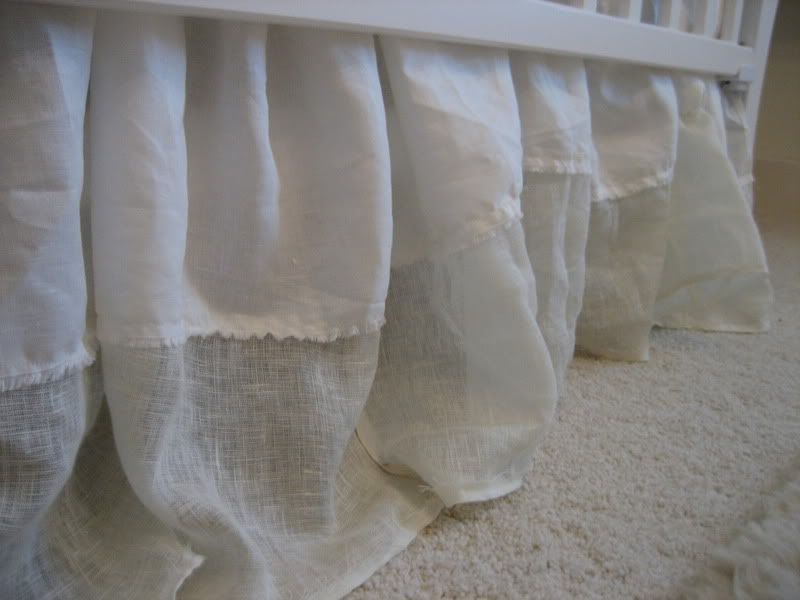 Thank you for stopping by our home! If you are new to the Poppies at Play Home Tour, click here to start at the beginning and visit the first 19 homes on the tour! If you would like to join in yourself, visit Poppies at Play for a Linky Party !
Happy Weekend everyone!