I did not design this whole labor and childbirth process, but I really don't think that early labor should be allowed to continue for days on end. Baby and I are in a holding pattern of contractions that are painful, timeable, and that then just stop. I'm starting to feel a tad delirious from the physical and emotional discomfort of the situation but through the fuzz of my memory, I believe I am on day five of this pattern. All of the days have started running together.
The problem with this prolonged pre/early/false? labor is that it provides far too much time for an intensely hormonal woman with a creative brain to sit and contemplate what is coming. I don't have any real fears over giving birth. I'm sure I will look back on that statement and laugh and I am sure that many of you are already laughing and waiting for me to join in, but truth be told I would take any amount of physical pain for any duration of time in exchange for the peace of mind in knowing that I will be a mother worthy of my son.
Did I tell you how special he is?
Did I tell you that he deserves the moon?
Why was I so blessed to be entrusted with his life?
I say this honestly to you because I have received many comments and emails from readers who appreciate my transparency and at this time I feel honored to step transparent before you and reveal my heart.
I was sitting in the nursery yesterday, contemplating these issues, putting the final stitches on this pillow I made from fabric scraps.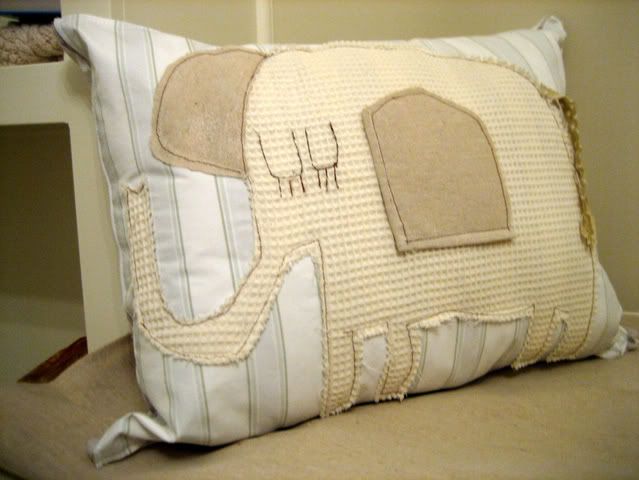 Then suddenly, I looked out the window and saw the absolute most perfect rainbow, smack dab in the middle of the drizzly grey March sky.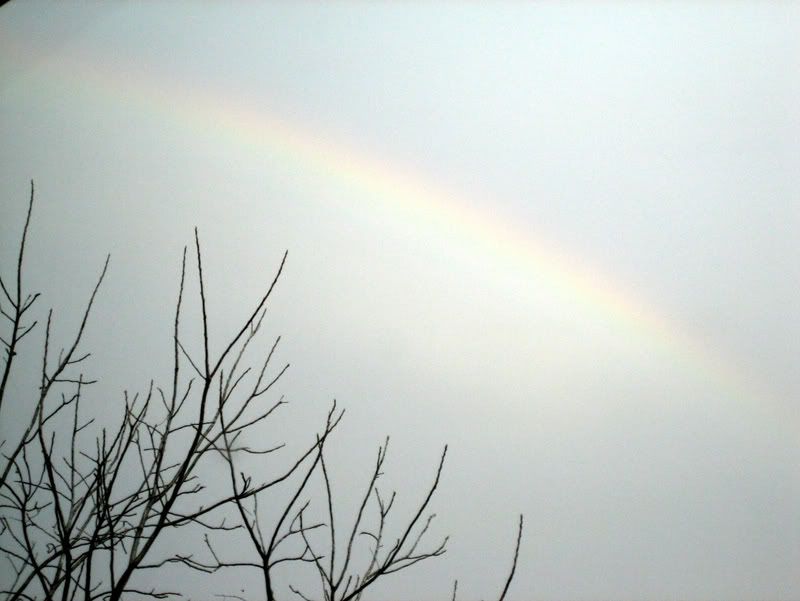 And then like a whisper, through the storm of self-doubt came His gentle reminder that I will never be left to mother my baby alone, for He will ALWAYS be with me.
I have set my rainbow in the clouds, and it will be the sign of the covenant between me and the earth. Genesis 9:13
My translation: I have set my rainbow in the clouds so that you can look up in times of questionable or stormy weather and see a physical tangible reminder of me and all the promises I have made to you-for hope and future, of never-ending love and faithfulness. For you are my child. As much as you love your son, I love you more. I knew in the creation of the world to design this thing called a rainbow and that one day I would hang it in the sky and you would see me and believe me and rest peacefully knowing that you can do all things through me.
And so we continue to wait. I do not know the day or hour of his birth, but He knows. It will be in His perfect time. Such comfort in that.
I cannot wait to introduce you all to my son and I greatly appreciate all of your prayers during this truly awe-inspiring time.
"Entrust your loved ones to Me; release them into my protective care. They are much safer with Me than in your clinging hands. . . When you release loved ones to Me, you are free to cling to My hand. As you entrust others into My care, I am free to shower blessings on them, My presence will go with them wherever they go, and I will give them rest. This same Presence stays with you, as you relax and place your trust in Me. Watch to see what I will do."
(based on Genesis 22:19-12, Ephesians 3:20 and Exodus 3:12), Sarah Young, Jesus Calling