I am incredibly excited and entirely humbled to be able to share with you the following incredible makeover by blogger, Alyssa of Resolved2Worship.
This incredible mom of six, with one on the way, recently (along with her husband) moved her family into a commercial building which she is transforming into an amazing home. While the makeover is gorgeous by any account, what is so amazing is that Alyssa did this makeover on a SONG.
I contacted Alyssa to see if I could share her makeover here and she responded:
"I would love for other women, who like me don't have decorating in the budget, to be encouraged that they can make any place a homey and lovely place for their man and family. The Lord be glorified in all we do ~ even in the little things :)"
If you are a reader of this blog who thinks "those photos are lovely, but that must cost a fortune," then this post is for you! With some creativity, imagination, and big dose of FAITH, Alyssa transformed this egg plant and green kitchen into a lovely cottage stunner. I hope this inspires you.
Alyssa's goals in her kitchen makeover were to "lighten the kitchen up, simplify the colors, and spend less than ten dollars." (emphasis mine)
You still with me?
Hold on to your hats!!!
Here is the kitchen before:
She used a leftover (free) can of white paint to paint the wainscoting. And a leftover (free) can of brown paint she snagged from her sister to paint the cabinets.
Alyssa wanted an odd sized table – narrow and long and unique -so her husband made this table out of used lumber and used table legs. The top is yet to be stained.
These lovely dishes were wedding gifts 12 years ago.
This basket was from a warehouse sale; the metal rescued from the yard by one of her children, the "glass" label from a cardboard box!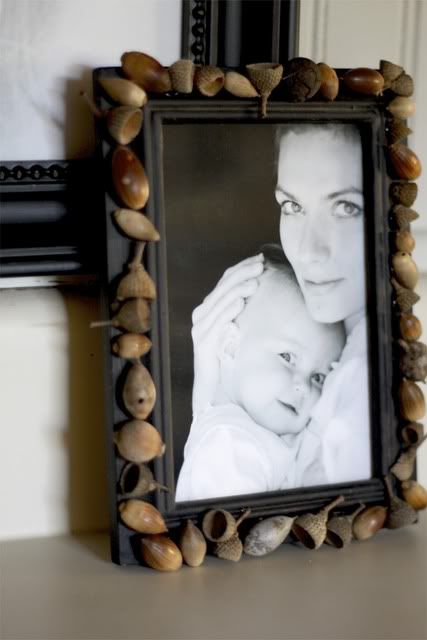 One of several frames from goodwill, originally red, were painted black, and adorned with acorns from the yard with the help of her young children.
Her husband brought home this large piece of cork board from a job, which is now used for posting pictures, reminders, and clippings. The metal roll-away cart was a rescued throw-away and the dishes? Goodwill!
Another goodwill frame decorated on a dime.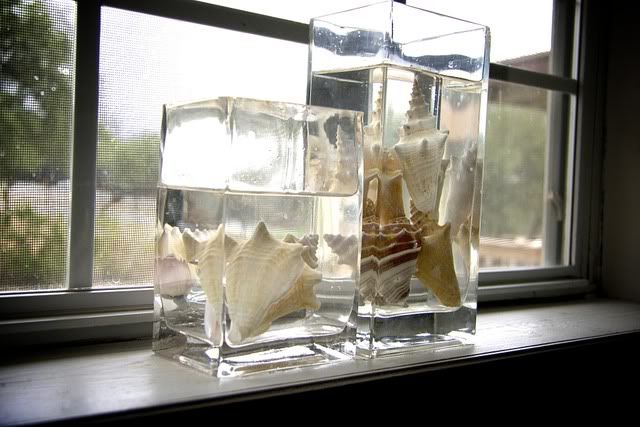 Vases from Goodwill "for mere pennies" and seashells from Alyssa's home state.
* * * * *
Alyssa confessed that her biggest expense in her kitchen project was the hand towels she bought from World Market for 69 cents!!!
Alyssa's decorating motto:
"Do What you can, where you are, with what you have."
Thank you, Alyssa, for sharing your makeover with us! Your space is a rare and beautiful treasure.
In the same way, let your light shine before men, that they may see your good deeds and praise your Father in heaven. Matthew 5:16