My toddler boy hands me a rock and it is small, cool, smooth in my hand.
"God made the rock," he says, searching my face for confirmation, purpose.
"Yes, sweetheart, God made the rock."
"And God made the berry," he tells me, smashing a broken wild berry in my hand.
"Yes, God made all the berries. . . strawberries . . . raspberries . . . gooseberries . . . silly goose," I say, smooshing my nose to his,  eyelashes kissing his flushed babe cheeks.
"And God made the windows????" He asks, his eyes searching the east side of our little white cottage.
"Ummm . . . yes, baby . . .  and God made the windows."
"God made the windows and Uncle Floyd painted them!!" He delights, giggles, runs off in search of boy-treasure.
I laugh but he doesn't notice.  "Uncle Floyd" is our contractor.  Several weeks ago, he painted the window frames.  We have no family connection, unless you count this cottage of ours.
As I watch my boy play in the yard I think about those windows and whether I answered his question correctly.  Because of course man made the windows.  But I know who made man.  I know the Creator.
"For in him all things were created: things in heaven and on earth, visible and invisible, whether thrones or powers or rulers or authorities; all things have been created through him and for him."  Colossians 1:16
As mothers, we see God in our newborn children.  That's an easy one, is it not?  When mother's eyes first rest on baby's face and the earth shifts and our hearts are set aflame, isn't it God we are seeing?
But what about when exhaustion overwhelms us and that same child's cries wake us at 3 a.m., sheets wet, pajamas needing laundered?
Do we see God in our child then?
When we have to search below the surface?
Do we see Him in windows aging into a hundred year-old cottage?
What about the times that the surface of things blinds us to the Holy deep?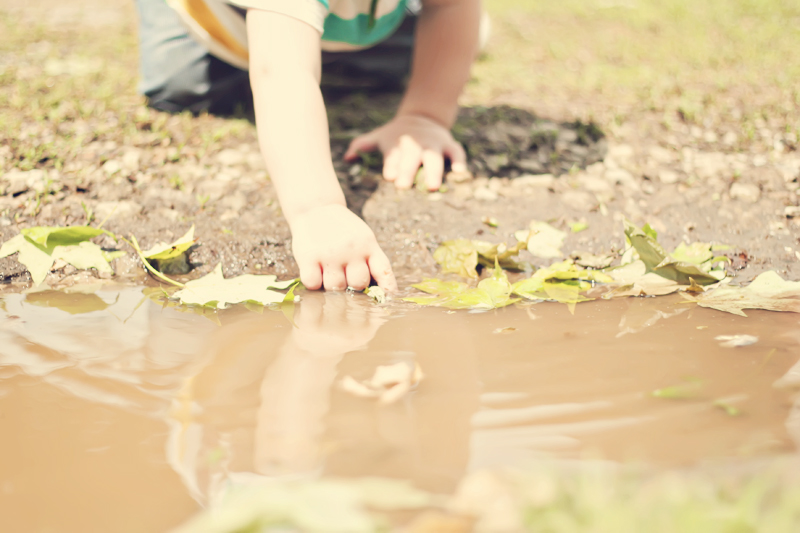 It is a few nights after my toddler boy asks me about God and rocks and windows that I open one of those same cottage windows after midnight.  A strong breeze comes inside from a night that is 58 degrees and it changes everything.  For a moment I wear nothing other than that breeze and the weight of a seven pound unborn babe.  This is a long hot summer in a body heavy with a life continually growing and gaining.   Pages of an old paperback flicker on the nightstand.  A delicious and holy reprieve after a long and hard day of toddler demands and humidity, dirty dishes and scrambled eggs that went uneaten, naps not taken and exhaustion that that threatened to overwhelm.
Where is God on the hard days, when we don't see Him but we are hurting and broken, needing Him most?
That breeze, the physical comfort of an invisible God, ministers to me and I know I have been asking the wrong question.  It isn't "where is God" but "where am I?"  Am I so entangled in the surface of things, the cold scrambled eggs, that I am blind to the Holy Deep-the comfort to be found there?  the purpose?
I close my eyes and run my hand along the window sill.  God is the wind and the window, the Savior and Creator.  Beckoning away from a life entangled on the surface, He brings the breeze and says "arise my beloved and come with me." Song of Solomon 2:10
As His beloved, I refuse to only see His hand in the obvious-the rocks and the berries and the good days.    I must search deeper to find Him in the old windows and cold eggs and hard days.  I commit to seek His face in hidden places.
To teach my toddler boy to do the same.
"Yes, Wynn," I will assure him, "God did make the windows . . .  man made the windows, but God made the man."
"God is right there.  Look hard, little one . . . beneath the surface . . . right into the Holy Deep."