When I was a little girl, my sister Elizabeth and I made elaborate scrapbooks that we each titled our "Dream Future."   We poured over the Sears and J.C. Penny Christmas catalogs, shopping not for toys and dolls but for the likeness of our future husbands and children.  We would each find our "dream guy" modeling crew cut sweaters or long underwear and cut out his picture with child-safe scissors.  Using Elmer's Glue we would affix men we named "Kevin" or "Kyle" to white printer paper.  We would cut and paste our ideal children from the baby and toddler clothing pages and then their clothes, bassinets and toys alongside them.   How old were we then?  Eight, nine years old?  Little girls with big dreams, eager to grow into wives and mothers.
I believe now, that in those early years, God looked down on my pages saturated with glue and hope.  I see Him now, where I could not then, leaning over the shoulder of a curly-haired nine year-old whispering truth:
"  No eye has seen, no ear has heard, no mind has conceived what I have prepared for those who love Me."  1 Corinthians 2:9
Flash forward twenty years and I am walking with my husband and toddler in our small downtown.  It is a  sticky summer evening cooled by heaping scoops of lemon sorbet.  Our second baby wiggles inside me and my husband's strong hand falls reassuringly to the small of my back.  I am not thinking about a nine-year old's dreams and I am momentarily blind to the fact that I am living out my dream, perfected for His holy purpose.
We walk along a crosswalk and two teenage girls with perfect bodies and tanned legs pass us, heading in the opposite direction.  I look down at my maternity dress and worn flip flops.  I am sweaty in the heat and suddenly feeling my age like a weight.  My mind wanders and I remember walking these same sidewalks, 15 years and 20 pounds ago.  I imagine what it would be like to be one of those girls for an evening, stylish shorts and strappy sandals with perfectly pedicured feet.  No diapers or dishes or bedtime tears.  No one needing me in the dark of night.
It isn't until that evening when the house is quiet and everyone is in bed that I think about the "Dream Future" scrapbook for the first time in years.  In the darkness I hear the hum of our bedroom fan and my mind flashes ahead, this time sixty years into the future.  I am a ninety-year old woman, hands riddled with arthritis, leafing through photos and memories with tear-filled eyes.  What will I ache for when my present has faded into distant memory?  A slim body before it nurtured a new life into being?  Carefree days before the demands on my time and attention seemed to exceed my ability to provide?
No, I believe I will ache for the same things at age ninety that I ached for at age nine:  this ministry of motherhood and the privilege of being my husband's best friend and helpmeet. 
But don't we all, as mothers and wives, need the reminder when we are in the trenches every day?   A reminder that in all the hard work and sacrifice, we are maybe, just maybe, living out our dream, perfected for His holy purpose?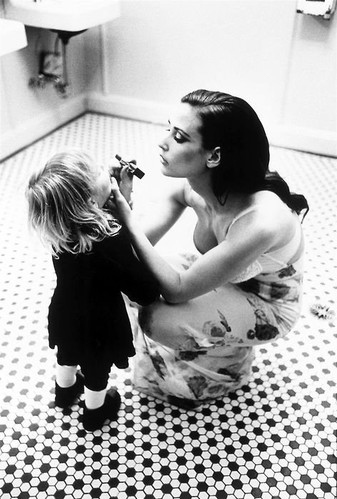 If I still myself to listen to His voice, what is He whispering to me today, in the same manner he whispered truth to me as a nine-year old girl?
"I consider that our present sufferings are not worth comparing with the glory that will be revealed in us."  Romans 8:18
"And we know that in all things (even crayons on the sofa and syrup on the floor) God works for the good of those who love him, who have been called according to his purpose." Romans 8:28
To all of my readers, here is to a new week of living the dream, whatever He has called you to.  May we still ourselves to hear His whispers of purpose and encouragement.
It truly is the way, the truth, and the life.   John 14:6
Happily reflecting on the gift of motherhood this week and linking this post with Ann at A Holy Experience.