"For everything that was written in the past was written to teach us, so that through endurance and the encouragement of the Scriptures we might have hope."
Romans
15:4
Dear Wynn,
I wanted to sit here tonight and write all of the details of the night you were born. I wanted to sit here with a cup of coffee and just write it all down.
But I could not.
I wanted to tell you that it rained that night. That my nurse's name was Tracey. That she had shoulder length brown hair and the kind of peppy energy that made me sure she must have been a camp counselor at some point in her life. I wanted to tell you how I ate two chocolate easter eggs, even though I was only allowed popsicles. That it was dark that night. So dark and wet with spring rain. I wanted to write down how the pain was so strong that it was like being twisted in two. And finally, that after 24 hours of labor, you were entangled in the umbilical cord, that your life was threatened and that I nearly went mad with fear. Yes, I wanted to write all of this. Write how my tears felt running hot down into my ears and into my neck as I laid helpless and flat on my back in a hospital bed. How your heartbeat kept disapearing from that hospital monitor. How they put an oxygen mask over my nose and told me that I needed to remain calm and take deep breaths of air and how I couldn't manage even that small task because my nose was completely congested with tears and fear and the shadow of a lurking grief.
Yes, I could have written these things for you, but I knew that my words were not enough. How can I write that the cord was wrapped twice around your neck? How can I tell you the way it felt when I first saw your face? Healthy and alive? That you knew me. That I called for you when they pulled you from me and that you knew me. Just look at your eyes in these pictures. It is all there.
Only His words will do. Mine could never do. These are the words I took into the delivery room with me that night and the words that filled my mind and narrated your birth. Remember these words, Wynn. And someday when I am gone, you will remember for us both the night in which we were one and then, by God's glorious hand, you were drawn from me . . .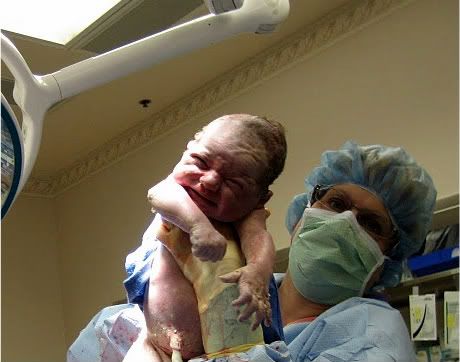 "But now, this is what the LORD says—
he who created you, O Jacob,
he who formed you, O Israel:
"Fear not, for I have redeemed you;
I have summoned you by name; you are mine.

"
When you pass through the waters,
and when you pass through the rivers,
they will not sweep over you.
When you walk through the fire,
the flames will not set you ablaze
.
"For I am the LORD, your God, the Holy One of Israel, your Savior;

I have revealed and saved and proclaimed—
You are my witnesses," declares the LORD, "that I am God

.

For I will pour water on the thirsty land,
and streams on the dry ground;
I will pour out my Spirit on your offspring,
and my blessing on your descendants.

Return to me, for I have redeemed you.
Sing for joy, O heavens, for the LORD has done this; shout aloud, O earth beneath. Burst into song, you mountains, you forests and all your trees, for the LORD has redeemed Jacob, he displays his glory in Israel.
Isaiah 43-44
To God be all the glory. Forever and ever,