We visited an old fashioned Christmas tree farm over the weekend and brought home a beautiful tree that is making our whole house smell heavenly!
We drove "up the mountain" as the locals say here in North Carolina, to a wonderful Christmas tree farm.  We went on a hayride, chose and cut a tree and ate Christmas cookies served by our wonderful hosts.  It was dreamy!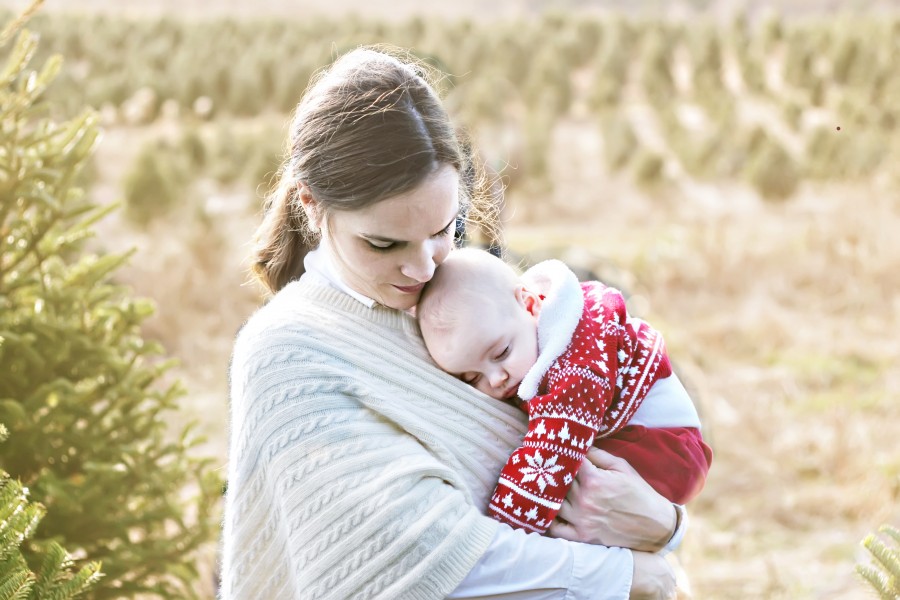 My angel baby, who will turn 3 months this week, slept through it all, even the chainsaw!  Sweet boy.
~ ~ ~ ~
Hot chocolate is the perfect  accompaniment to Christmas tree shopping and this handmade version is divine but ever-so simple.  It is perfect topped with fresh homemade whipped cream.  As an added bonus, both the hot chocolate and the whipped cream are fun to make with young children.  It is a post-afternoon nap ritual at our house during the winter months.
Favorite Hot Chocolate
1/2 cup sugar
1/3 cup hot water
1/4 cup Hershey's Cocoa
4 cups milk
dash of salt
3/4 tsp vanilla extract
Mix cocoa, sugar, water & salt in saucepan. 
 Stir constantly until mixture boils over medium heat; cook and stir 2 minutes. 
Stir in milk and heat but do not boil.  Remove from heat, add vanilla, and serve immediately.
We had dinner guests this evening and I served this hot chocolate for dessert in pretty cups and saucers.
To make fresh whipped cream, simply pour a carton of heavy whipping cream into a mixer bowl and whip on medium-high speed until cream becomes soft, billowy whipped cream.  You may add confectioners sugar if you like, but I prefer to not add any sugar when topping something sweet like hot chocolate.
It is beginning to look a lot like Christmas!