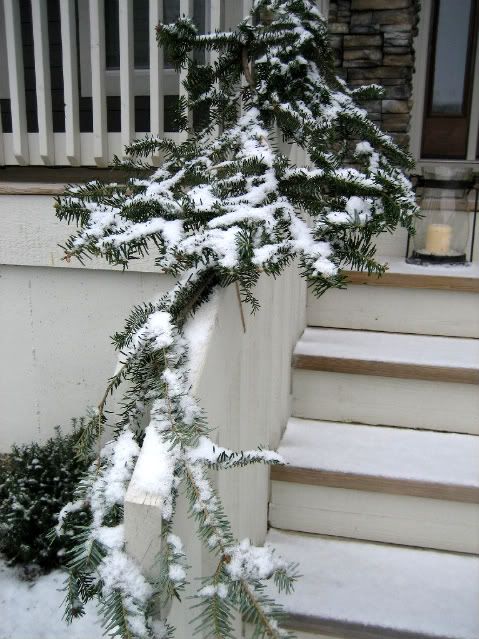 We had our first snow of the season at the start of this week, which was the perfect grand finale to a weekend of Christmas decorating around our "new old" house. I promised to share my ideas for budget-friendly holiday decorating and I am excited to be able to do that now! With all of the usual baby expenses we are taking on or planning for at this point, I wanted to add as much cheer to the house as possible, while spending as absolute little as possible. Let us just say that a certain some one's nursery is well underway and all of my spare pennies are directed that way! 🙂
What follows is the result of assessing several large boxes of Christmas decorations in my basement, and then reusing the decorations we already own in new and unexpected ways. Aside from the Christmas tree we bought at a local tree lot, I spent a total of $2.49 on decorations this year. Not too shabby!
First up, I took stock of all the ornaments we have and in lieu of putting them all on the tree, I used them in unexpected ways around the house to add pops of festive color. Here I combined a mix of green, silver, and white Christmas balls to decorate the window sills in our breakfast room. Aren't they cute? I know this would not work in a house with young children, but this is my last Christmas to leave all of my breakables out in the open! Don't they look cute, all in a row below?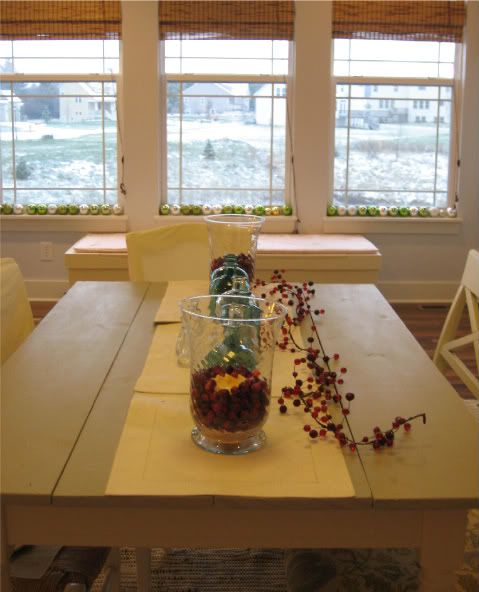 My three favorite inexpensive Christmas decorations are:
1. Cranberries- $.97 a bag at your grocery store
2. Twine- Less than a dollar for yards and yards of the stuff
3. Coffee beans (the flavored kind in particular)-roughly $5 for a bag
Fill whatever glass containers you have around the house with cranberries or coffee beans and accessorize by tying a piece of twine around the container: use hurricanes if you already own them, or basic canning jars. Other ideas would include wine glasses, serving bowls, etc. Go through your cabinets and get creative. Cranberries are great for the pop of color, and coffee beans add a cool punch of black and a better fragrance than you'll get from any wall plug-in! The coffee beans also last forever and make a great decoration that will last until spring.
In the photo below, I added candles I found around the house to hurricanes filled with fresh cranberries. The white and blue bottles came from JoAnn fabric this summer-I moved them to the kitchen table to compliment the red in an unexpected way. The string of red berry garland came from Pottery Barn some years ago. I don't have a runner that fits this table, so I combined white place mats for the same look. The white slipcovers on our breakfast chairs I sewed out of white curtains that I no longer had a place for.
Another ornament I found in the basement, compliments my favorite starfish candle on the kitchen shelves.

See these stars? I picked them up at Target (heaven on earth) for around $2.00 They are packaging tags, with "to" and "from" on the backsides. I took my ball of twine, paper hole puncher, and made a garland which I strung on the stove vent.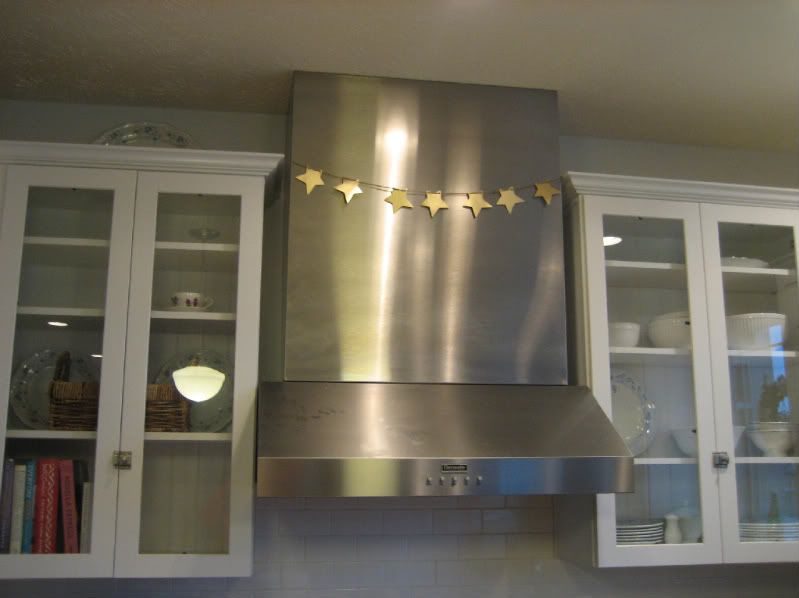 I repeated the process to make a garland on which to hang our Christmas cards-this one is hanging from a kitchen shelf.
I combined other odds and ends on our foyer table.
I always get a lot of emails when I post pictures of this table-it was an antique store find last winter. 🙂 Our mantel is not up yet so I re-purposed our stocking hangers and suspended Christmas ornaments from them.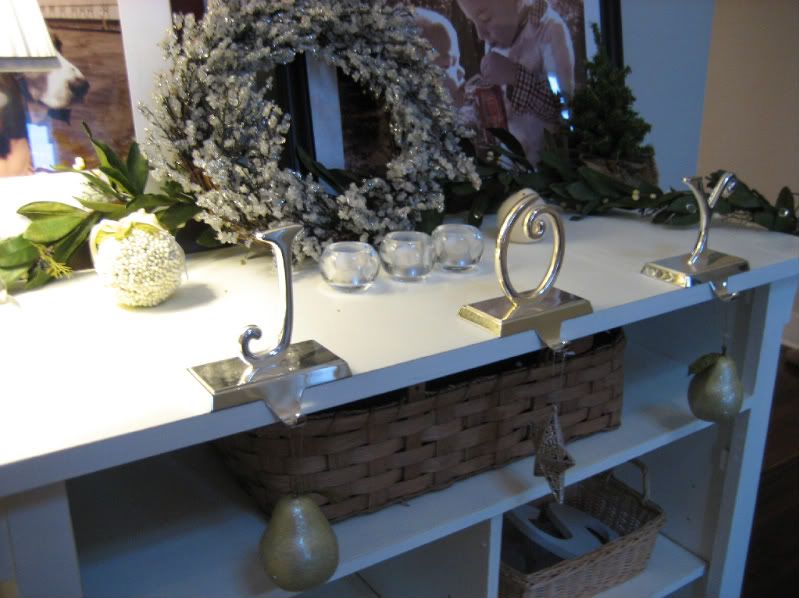 On the outside of the house, I decorated with fresh greenery. This stuff was free! I asked the guy cutting our Christmas tree what he was charging for the greenery he had trimmed from all of his trees and he told me I was welcome to it. I stocked up! That's my twine again-securing the greenery to the front stairway and adding some country charm.
I also put the greenery, along with some Christmas balls (that I weighed down with sand) in my window boxes.
Our final shake-up this year is the fact that we decided to leave our 7 foot Frasier Fir Christmas tree on the front wrap-around porch! We put white lights on it and I made bows out of scraps of drop cloth (i.e. faux linen). Now it is lighting up the neighborhood and I have no pine needles to clean out of my house come January!
Merry Christmas and Happy Decorating!!
What is new at your house this year?