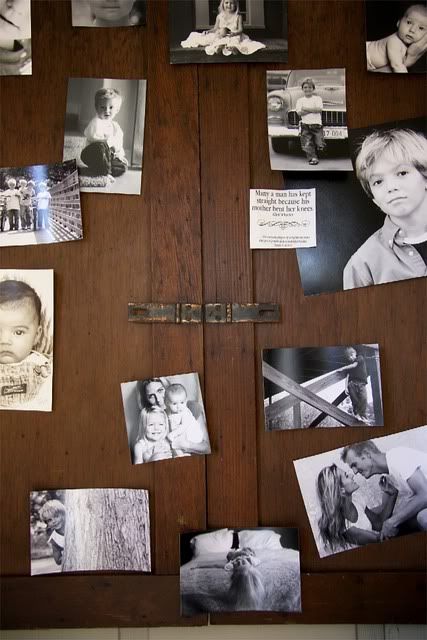 Like many women, I think I have a inner photographer who likes to come out and play wherever decorating is concerned. In my opinion, no artwork can compete with the awesome presence of a photograph of a loved one on the wall. Family photographs are the best of all worlds: they can be custom created and sized to fit any spot, yet can be as inexpensive as the cost of developing at your neighborhood Walmart.
If you are not familiar, both Shutterfly.com and Snapfish.com allow you to order prints as large as 20×30. Snapfish allows you to order large poster-size prints and pick them up in one hour from Walgreens!
The key to turning photos into art is to get a good, up-close shot, or crop the shot you have to highlight your subject child, pet, or object (landscapes are an obvious exception). Stick with similar style of frames or similar style of print finish (such as black and white, color, or sepia) for a professional looking collection.
Pottery Barn

Source
The wall collection above, by the famous Nie Nie, was featured in Cookie magazine. You can feel the love coming off of the wall!!!
We have many, many photos as art throughout our "new old house," everything from a favorite wedding picture, to a picture of me on the beach in Michigan at age 5, to a picture of the spot on the
Blueridge
Parkway where Mr. Marvelous and I got engaged, including pictures of many friends and relatives. Surround yourself with the people and things you love best, and have one of a kind artwork for a fraction of the price of the mass-produced art you could find at Bed Bath & Beyond.
Cheers (or cheese?) to that!